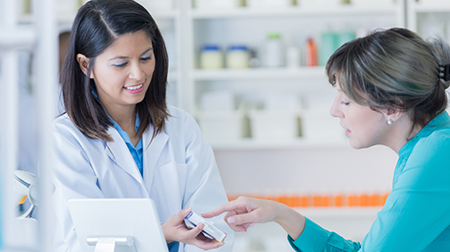 First of all, get to know your coverage. Check if you need to meet a deductible before your drug coverage kicks in, and learn which medications are on your plan's covered drug list. Also, be sure to use an in-network pharmacy.
To find a pharmacy in your network, or to learn more about your specific coverage, sign in to view your pharmacy benefits.
Be open with your doctor and let them know you're looking for ways to save. Ask if there are less expensive alternatives. Is there a combination drug—a drug that can treat more than one health condition—that might work for you?
You can also reach out to a pharmacist. They sometimes know about special discount programs or if drug companies are running promotions.
Your health plan may include access to online pharmacists who can answer your medication questions through your account on asuris.com or the Asuris app.
The price of a medication can vary from pharmacy to pharmacy, even among those in your network.
Shop around — the pharmacy at a warehouse club store, for example, can be less expensive than traditional pharmacies.
If you have Asuris pharmacy benefits, sign in and use Find a Pharmacy to search in your network and see how much a medication will cost.
You may also be able to compare medications for effectiveness, price and side effects, plus receive alerts about lower-cost alternatives, when you sign in to your account at asuris.com or on the Asuris app.
A generic drug has the same active ingredients as the brand-name drug. But there's often a significant difference in cost.
If no generic is available, ask your doctor if there are medications that do the same thing and have a generic. For example, some statins—drugs that lower your cholesterol—have generics and some don't, so it won't hurt to ask if another option might work for you.
There are some cases in which the generic isn't much cheaper, so your best bet is to ask your pharmacist.
A 90-day supply can mean big savings. Each time a pharmacist dispenses a medication, there's a dispensing fee. So if you get a 90-day supply, there's one dispensing fee; if you get three 30-day supplies, that's three dispensing fees. You can get a 90 day supply at your pharmacy or through home delivery.
Many health plans offer home delivery (also known as mail-order). With this service, you can order up to three months of your medications at a time.
Another plus? You spend less time calling the pharmacy and less gas getting there. Ask your pharmacist if 90-day supply is available for your long-term medications.
If you can't afford to pay for your medications, look into assistance programs sponsored by drug companies, nonprofit organizations and the government. They usually have limits on income and other requirements, so make sure to do your research.
While medications can be expensive, there are some ways to make it a little easier on your wallet. Also, talk to your doctor to make sure you're only taking the medications you really need.
To learn more about your specific coverage, sign in at asuris.com or on the Asuris app. Just visiting or shopping for a plan? Search now.
Pharmacy and pharmacist services are provided by JourniRx, Inc. (a licensed pharmacy).