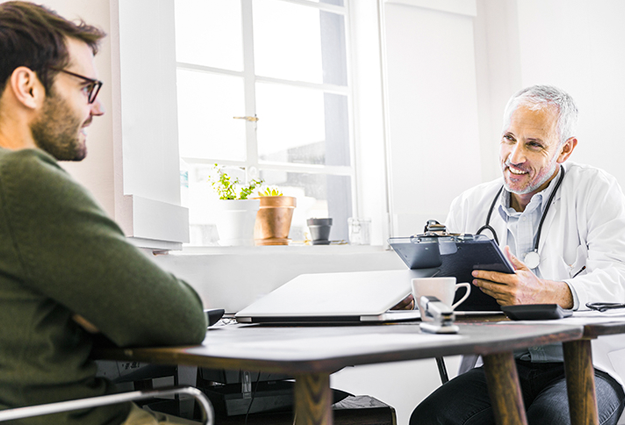 Whether you're planning major surgery or something relatively small, such as a mole removal, taking these 5 steps now can help you heal and save you money.
Let's get started.
You need a doctor who is experienced, highly rated and in-network so you don't have to pay more than you have to for care. Use Find a doctor to search for an in-network provider—you'll pay less for the procedure and your plan will cover more of the bill.
You also can use Find a doctor to read patient reviews.
(Be sure to come back after your appointment to leave your own review. This helps other members searching for doctors.)
Some medical procedures and surgeries require pre-authorization before you receive treatment to make sure you're covered. Your in-network doctor will seek approval for you, but it doesn't hurt to check with us, too.
If you're using an out-of-network doctor, you must get pre-authorization or you'll be stuck with a high medical bill.
Some services that often need prior approval include, but are not limited to:
Bariatric surgery
Cochlear implant
Reconstructive surgery
Surgery for obstructive sleep apnea and snoring

Varicose vein treatment
You wouldn't buy a car without seeing the price tag first. You should head into your medical procedure with the same information.
Use the cost estimator to see how much your procedure will cost based on your benefits. Be sure to compare estimated costs between doctors to find out if you could save money going to a different provider.
Where you choose to receive care also affects the cost. Prices can vary widely between facilities so compare them, too. If you won't need overnight care after your procedure, you may want to consider going to a surgery center instead of a hospital.
The cost estimator can help you budget for the medical bill. You also can use the information to:
Clarify and confirm with your doctor what services you will be paying for and how much they will be.
Spark a conversation with your doctor about ways to save money.

Start setting aside money to pay for the procedure.
If you have a health savings account (HSA) or flexible savings account (FSA), then great! You can use those funds to pay for doctor bills, hospital stays and medication related to your procedure.
If you don't, considering opening an FSA if your employer provides one. Or, if you have a high-deductible health plan, consider opening an HSA. Both types of accounts let you set aside money before taxes that can be used to pay for qualified medical expenses. An added benefit of an HSA is that the account is yours forever, even if you change jobs, and can be used during retirement.
Learn more about HSAs and FSAs.
Check with Customer Service to see if your plan helps pay for recovery supplies. Bandages, crutches, canes and compression socks are just a few of the items that are often eligible.
These items are called "durable medical equipment" and reimbursement works like this:
Buy the supplies.
Send a copy of your itemized receipt to MedicalSupplies@asuris.com and the name of the person it was bought for. To qualify for repayment, your receipt must show the product purchased.

Within four to six weeks, we'll mail your check to the address we have on file.
Even procedures you have planned for can disrupt your life a bit. But when armed with information to help you heal and control costs, it's much easier to get back on your feet again.