Asuris member ID cards can help you determine:
Where to submit claims
Who to contact for assistance

Which health plan, provider network, product and/or types of coverage your patient has
Please make a photocopy of the front and back of the member ID card at each visit and place it in the patient's file.
Access the Availity Provider Portal to:
Verify the member number
Verify patient coverage, benefit types and eligibility effective dates
View detailed patient benefit information, including office visit copays and major medical information

View real-time deductible, coinsurance maximum and other out-of-pocket amounts
Member ID cards are plastic and have a white background. Members can also select whether they would like separate cards for each family member or have all family members listed on a single card.
Below is a standard member ID card. Cards for members on our Medicare Advantage products or other customized plans may look slightly different than the sample, but still follow the same format.
The front of the card includes:
Item A: Logo
Item B: Member name and member number
Item C: Enrolled members
Item D: Network and product name (Members with EPO products only have in-network benefits. Refer EPO members to in-network providers, including laboratories.)
Item E: Group number
Item F: Pharmacy benefit
Item G: Deductible amounts, office copay amount and up-front visits (as applicable)

Item H: Coverage indicators for medical, dental, prescription and vision (as applicable)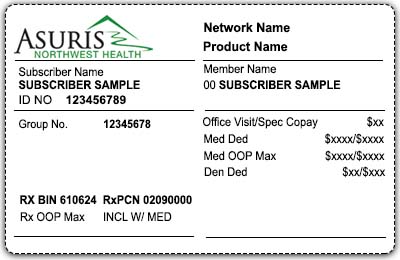 The back of the card includes:
Claims submission information
Website and phone numbers for members and providers

Vision Service Plan (VSP) provider phone number, if applicable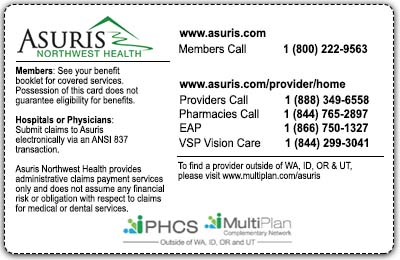 Dependents up to age 19 who are enrolled on a small group metallic product have a pediatric dental benefit included with their medical plan. These members will receive two cards if their coverage also includes a separate dental product.
Member ID cards are plastic and have a white background.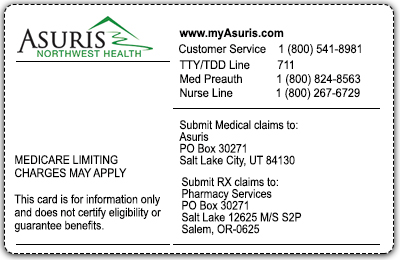 The cards are similar to our standard cards. The differences from the standard cards are:
Suffix number and member's name (first name, middle initial, last name). The two-digit suffix should not be included as part of the member number and is not needed to process the claim.
Member's group number (Group No), necessary for claims submission

Office visit copay amounts for:

Primary care provider (PCP)
Specialist (SPEC)
Out-of-network (OUT)
Learn more about our Medicare products.
Cards for members enrolled on these products include the following:
A dedicated Customer Service phone number: 1 (888) 849-4743
A unique member number suffix, - XX on the member ID card to differentiate these members from members on other Asuris dental products.

A specific claims submission address on the back of the member ID card. Before submitting any claims, please ensure they are sent to the correct location.
Learn more about our voluntary dental products.